To start, let me confess that I hail from The 'Burgh. While my beloved Steelers botched their season and won't be going for a super 7th ring, I still bleed black and gold (after all, there's always hockey.) The rest of our office is divided with a handful of Tampa Bay Buc buffs, some Jacksonville Jaguars fanatics, and of course, a few elated Pats fans sprinkled in. They are the ones walking around with sh!! eating grins (I'm lookin' at you, Marvin.)
While most of us will be hanging our heads watching the big game purely out of great respect for gridiron football, we will inevitably be watching. Some will be anxiously awaiting the commercial break, and others may just want to tune in to see Adam Levine move like Jagger. Either way, there is something all of these people will have in common. The will all find some delicious food to cheer about for a few hours. Let's be honest, the food is really the star player of any good football party.

This year I will be drowning by steel-city tears in a spread of beer-infused food. Isn't that what you are supposed to do while watching football anyway? My plate won't be full of pierogis or Primanti Bro's sandwiches, but instead delicious finger foods made with lots (and lots) of beer.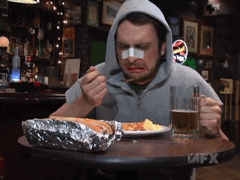 Cigar City Brewing Lager Bier Brat
Preheat an outdoor grill for medium-high heat. Slice onions into large sections and set aside. Place brats into a medium-sized pot. Add equal parts Lager and cold water into the pot until your brats are completely submerged. Bring your mixture to a boil; then add onions, salt, pepper, Worcestershire sauce and butter .Once boil resumes, reduce temperature to a simmer. Let simmer for 15-20 minutes. Remove brats from mixture and brown each side on pre-heated grill. Serve on a fresh bun and garnish with stone-ground mustard, sauerkraut, onions, peppers and/or a pickle spear.
Spicy Funky Buddha Hop Gun Chicken Wings
Preheat oven to 250º. Place wings in a large bowl and toss with baking powder and salt. Put wings on a baking sheet with a wire rack and bake wings for 30 minutes. Increase the oven temperature to 425º and bake for another 30 minutes until golden brown. Place the rest of ingredients into a small sauce pot, stir until ingredients are incorporated. Bring to a boil while continuing to stir. Toss fully cooked wings in sauce, place back onto wire rack and bake for an additional 5 minutes. Place wings on a platter, drizzle remaining sauce over wings and serve.
Lagunitas IPA'd Onion Dippy Dip
Caramelized to perfection, easy and fast. This onion dip is made with Lagunitas IPA and will be the hit of your Superbowl. Munch away munchers...
Combine the butter and olive oil over medium-high heat in a large non-stick skillet. Once the butter has melted, whisk in the brown sugar and 1 teaspoon of salt. Add the onions, and sauté on medium-high heat for about 5 minutes, stirring constantly. Lower the heat to low and caramelized the onions for approximately 30 minutes. Once the onions have begun to brown, add the Lagunitas IPA and crank the heat back up to medium-high. Cook until the beer has cooked out and reduced and all you have left are the caramelized onions (Yes!) This will take 5-8 minutes. Remove from heat and set aside to cool slightly. Preheat your oven to 400°F. In a medium bowl, stir together the mayo, cream cheese, sour cream, bacon, a dash of salt and pepper and most of the cheese (reserving about 1 ounce to sprinkle on top). Add the caramelized onions to the mixture and stir to combine. Pour the mixture into an 8x8 inch baking dish, and smooth to even out. Sprinkle the remaining cheese on top and bake, uncovered, for about 20-25 minutes, or until the top is bubbly and just beginning to brown. Drink the remaining Lagunitas IPA –never waste the good stuff! Remove from heat and serve immediately with crusty bread or tortilla chips
Jai Alai IPA Hummus
Add all ingredients EXCEPT Jai Alai IPA to a food processor and blend. Once ingredients are blended, stop food processor and add Jai Alai along sides of processor while mixing until desired consistency is reached. Serve with pita and crudités.
Sierra Nevada Pale Ale Pulled Pork Sliders
Generously season meat with salt and pepper on all sides. Place the pork roast in a slow cooker, fat side up, and pour beer over top. Add water to just cover pork, if needed. Roast on low for 6 – 8 hours, until you can shrewd meat with a fork. Drain liquid from the post and shred the pork. Toss with BBQ sauce and cook for 1 hour on medium heat. Serve topped with coleslaw on slider buns.
You can pair each of these meals with the beer you used to prepare them, or you can find some football-themed cocktails for your pigskin party here.