If you go to five different bars and order a Mai Tai, chances are, all five will look and taste completely different. Why? Basically, it depends on what type of establishment you visit. If you frequent a high-volume sports bar across the street from a stadium on game day, you will absolutely receive a couple of rums mixed in with a few juices and grenadine. Quick and easy. It will be a delish rum punch, yet, not really a Mai Tai. If you visit an artisan restaurant where everything is locally sourced, and their cocktails are served in copper mugs and coupes, you will most likely get a crafty version—one where they make their own syrups and fruit-infusions and top it off with prosecco. Not a traditional Mai Tai, but guaranteed delicious.
The traditional Mai Tai is probably not what you are picturing. Debatably, a guy named Victor Jules Bergeron (Trader Vic) in Oakland, California invented it, according to www.curacaoliqueur.com. The coastal-lovin' cocktail was created with lime, rock candy syrup, rum, orange curaçao, orgeat syrup and shaved ice. Topped with a sprig of mint, the original Mai Tai was born.
With growing popularity came various interpretations of the drink. Trader Vic introduced the Mai Tai to the Hawaiian Islands, and so sparked the drink we commonly think of today. Pineapple and orange juices were added with other additions such as grenadine, dark rum floaters and flavored syrups.
So, now you are sitting seaside and need the perfect refreshment to pair with your view. Which do you choose? Don't call us Goldilocks, but we want something just right. We don't want to make every ingredient from scratch but still crave something that has layers of flavor. Whether you are a traditionalist or someone who experiments a little, you really can't go wrong.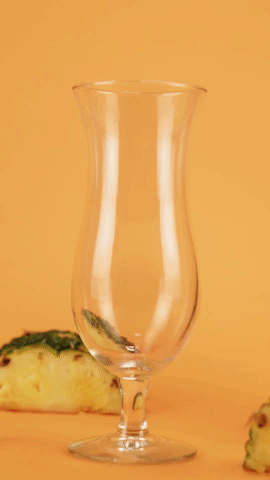 Here are some tips that will get you started:
Pick a quality rum. This is the staple of the cocktail and can change the flavor profile of the drink.
Know your juice - this isn't a rum punch! Traditional Mai Tais only have fresh lime juice. However, if you like something a little fruitier, add a splash of pineapple juice. It may not be traditional, but it's a fast pass to beachy bliss.
It's all about the orgeat syrup. Make your own with this recipe or buy it premade.
Crushed ice is key.
We have much respect for the Trader Vic loyalists, however we like options. The original "Trader Vic's" doesn't call for grenadine or a dark rum floater, but it is all about preference here. If you like layers of flavor you can sink a little grenadine and float a bit of dark rum.
There is no chance of rain. It's a sunny-disposition kind of drink, so no umbrellas necessary.
Traditional Mai Tai Recipe:
In a shaker with ice, add all ingredients and shake pour into a glass over crushed ice. Garnish with shell of half a lime and fresh mint sprig.
Hawaiian Mai Tai Recipe:
2 oz Pineapple Juice
½ oz Fresh Lime Juice
¼ oz Orgeat Syrup
¼ oz Simple Syrup
1 cup Crushed Ice
Cherry
Pineapple Wedge
Pour ingredients into a glass over crushed ice and stir. Garnish with a cherry and pineapple wedge. For variation, check out this graphic:
For other recipes to enjoy this summer, check out our featured recipes page or find us on Pinterest.