Before you freak out that there are only 11 more weeks before Christmas (cue ensuing panic in 3… 2… 1..) let's not forget we have one mighty fun holiday approaching even quicker. We are talkin' about Halloween, y'all. Break out the candy corn and BOO-ze because it's time to throw a scary-good soirée.
We know it is difficult to time-out your tailgate brain but put football on pause for a sec. Harness your inner Sanderson Sister because hocus pocus, it's time to focus. Follow our guide of tricks and treats to guarantee your guests a wicked good time.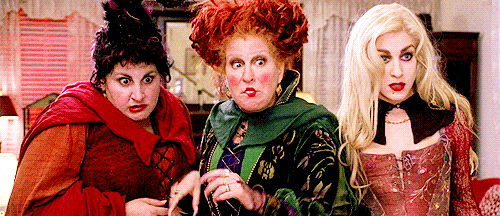 The Playlist
Trick: It's easy to make on apps like Spotify, and you can even share them with your buds. Try this playlist we created, or craft your own. Be sure to include songs that are themed like Superstition by Stevie Wonder and Black Magic Woman by Santana.
Treat: All your ghoulish guests will be eerily entertained all night.
The Costume
Trick: Don't be the third magical mermaid at your own party. Skip the costume shop and get crafty. DIY your Halloween duds and host in something truly original, like boxed wine!
What you need:
Cardboard box (one big enough to fit your body)
Prints of boxed wine label, or markers to draw
Glue
X-acto knife or box cutter
Duct tape
Naked Grape Pinot Grigio boxed wine
Take your cardboard box and get to cutting! Use your X-acto knife to cut a hole for your head, 2 for your arms, a hole in front fit to the size of the wine box nozzle and remove the bottom completely.
Get to printing. We recommend using a print shop to get a perfectly fit logo, but if you don't have time (or the money) you can print the logo on individual sheets and match them up. When in doubt, draw it out.
Take the bag of wine out of the box and place inside your costume with the nozzle facing out through the hole you cut earlier. Duct tape that sucker in…like your life depends on it.
Pro tip: It's hard to pour your own glass, so keep your partner in wine close.
Treat: You will be serving up eye-candy, while having a handy wine dispenser at your disposal! Find more DIY costume ideas here.
The Wine
Trick: In addition to your stellar costume, you will need a few bottles of wine for your witches. To know how many, check out this drink calculator here. Get ready, because this is probably the only time we will tell you it is advisable to shop for wine this way. Look at the label. (insert shock emoji if platform allows) Here are our favorite on-theme wines that still have a smooth taste.
Treat: We have some suggestions for you. The Velvet Devil's deep and delicious black fruit, cedar, and tobacco flavor is sinfully smooth. For those who love a crisp white, Bogle Phantom Chardonnay would please any party goer. With notes of green apple, pear and baked apple pie flavors, it perfectly pairs with any fall dish.
The Cocktails
Trick: You're going to need to harness your inner flower child, because this cocktail calls for black lights. Why you ask? The quinine in tonic water glows fluorescent blue under ultraviolet "black light."
Treat: Grab some Death's Door Gin and pour 1 ½ ounces in clear plastic cups over ice. Top with tonic water. If you want to harness the horror, add a fake plastic syringe filled with grenadine and set on top of the clear glass. Line the table with black lights and your guests will glow with gratitude! If you can't get behind gin, Rogue Dead Guy Whiskey makes a monster Manhattan.

The Beer
Trick: Hollow out a pumpkin for an instant cooler. Fill it with ice and your favorite pumpkin beers like Shipyard Pumpkinhead or VooDoo Ranger Atomic Pumpkin. Florida-local Red Cypress Brewery also offers some great craft brews for your cauldron - Spook Hill IPA and Devil's Chair Pale Ale.
Treat: Whether your favorite flavor is hoppy or fruity, there are plenty of spooktacular choices in the craft-world to fit your theme. You can mix and match a six pack and receive 10% off each bottle!
The Décor
Trick: Halloween, Thanksgiving and Christmas are each just one month apart. It's best for your setting to be totally transformable from one holiday to the next. Grab neutral tones that can be used for each gathering like gold and ivory. Throw in each holiday's base color (black for Halloween) and a few accessories. We hit the dollar store for some plastic pumpkins and sprayed on some paint! We also snagged some old books and tarnished teapots at our local thrift store, and voila!
Treat: It takes minimal-effort and is very inexpensive. Your wallet and your garage will thank you.

The Favors
Trick: Tie on some favor tags that say "You've been BOOzed" or "No tricks, just treats" to an assortment of mini bottles. Put them in a "trick or treat" pumpkin and let each person take one as they leave. To make them a little more personal, we hand wrote ours, but you can find tags online to easily print.
Treat: Your guest's will come back next year.
Now that you have a plan set, get to prepping for your party! If you need further assistance on wine picks, you can always pick the brain of your wine consultant at your local store.
Follow us on Instagram for more Halloween inspiration!