We first met the sultry smuggler in a dingy cantina full of degenerates, where he fired the shot heard around the galaxy—Han shot first.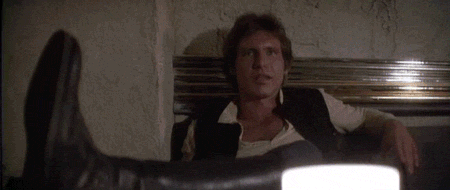 Then, we witnessed this lovable scoundrel get attacked by Imperial Stormtroopers; help destroy the Death Star; stuff Luke inside a tauntaun (still gross); fly through an asteroid field into a giant worm's mouth; fall in love with Leia; get frozen in carbonite; lose and find the Millennium Falcon a few times along the way, and (if you are conscience person on this planet) you know the rest.
So, it's only appropriate to toast the hits and near misses of the Solo saga by crafting a few cocktails in his honor.
Set up your own Mos Eisley cantina and give one of these three drinks a try. There is no need to tell me how much you love them – I know.
Carbonite Jello Martini
Ingredients:
1 ½ cups Dominio De La Peseta Cava
1 Tbsp. Lemon Juice
3 Envelopes of Gelatin
1 Male Action Figure
¼ Cup Sugar
¼ Cup Gray's Peak Gin 86
Edible Silver glitter
Directions:
Combine 1 ¼ cups Cava, lemon juice and sugar in a saucepan. Sprinkle gelatin on top. Let gelatin soften for about two minutes, then heat mixture over low heat
Stir in remaining ¼ cup each of cava and gin
Pour mixture into martini glasses over action figure
Chill until firm
Sprinkle silver glitter on top
Charleston Chewie
Ingredients:
1 1/2 oz Milk Chocolate Godiva Liqueur
1 1/2 oz Pinnacle Whipped Cream Vodka
1 oz Heavy Cream
1 Mini Charleston Chew
Directions:
In a coupe glass, slowly pour chocolate liquor
In a mixing glass, stir together whipped cream vodka and heavy cream
Slowly pour mixture over chocolate liqueur over an up-side-down spoon to layer
Garnish with a Charleston Chew
Han Yolo:
Ingredients:
2 oz Teeling's Small Batch Whiskey
½ oz Simple Syrup
1 oz Orange Juice
1 oz Pineapple Juice
1 oz Fresh Squeezed Lemon Juice
Mint Sprig
Orange Slice
Directions:
Add all ingredients into a shaker with ice
Strain into a chilled rocks glass over fresh ice
Garnish with a mint sprig and an orange slice